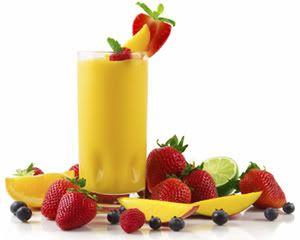 Wake up every morning to the taste of a refreshing delicious healthy fruit smoothie.
Packed full of goodness containing vitamins, minerals and nutrients all blended together with fruit juice, milk or yogurt. Served chilled in a tall glass with crushed ice. The ideal way to start the day full of energy including two of your 5 a day fruit and veg.
"
What is a smoothie?
A smoothie is a delicious and healthy drink made up of fruit that's been blended with fruit juice, milk or yogurt. So not only do smoothies taste great – they're really good for you too. Packed with all the vitamins and nutrients you get from fresh fruit, they make the perfect drink, day or night. What's more, all you need to make them is some basic kitchen equipment and a little imagination. A smoothie is a blended, chilled, sometimes sweet beverage made from fresh fruit or vegetables.
In addition to fruit, many smoothies include crushed ice, frozen fruit, honey or frozen yogurt, although some smoothies are 100% fruit. They have a milkshake-like consistency which is thicker than slush drinks. Unlike milkshakes, they usually don't contain ice cream, but can contain milk. Smoothies are marketed to health-conscious people, and some restaurants offer add-ins such as soy milk, whey powder, green tea, herbal supplements, or nutritional supplement mixes.
Smoothies became available in the United States in the late 1960s when ice cream vendors and health food stores began selling them. By the 1990s and 2000s, smoothies became available at mainstream cafés and coffee shops, and in pre-bottled versions at supermarkets.
How do you make a healthy nutritious fruit smoothie?
Making smoothies is easy. All you need is a blender, liquidiser, a food processor or a hand blender. Next you get your fruit. Fresh is good, but tinned works just as well. When the weather's hot, why not try frozen too? The best thing about smoothies is that there's no right or wrong way. You make them to suit your taste, using your favourite seasonal fruits. Just choose some of your favourite fruits stick them all in the blender with a little fruit juice, milk or yogurt, and blend until smooth then pour in a tall glass and enjoy. Smoothies are only restricted by your imagination, so be creative.
Free Smoothie Recipes
Here at TastySmoothies.blogspot.com we have over 100 quick free smoothie recipes for you to try, if you've not got the right fruits for the recipe you like, just substitute it with something else. Remember there are a few tricks of the trade to make your smoothie even better, try freezing the fruit beforehand, this adds for a thicker consistency and ensures your smoothie stays colder for longer.